Radiology
Operation Rooms
Laboratory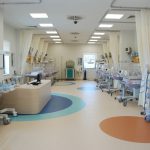 Intensive Care
Private OFM Antalya Hospital
The private OFM Antalya Hospital is located in the center of Antalya. The building of the hospital corresponds to the European standards.
24 Hours long medically competent English, Germany and Russian speaking partners will be at your service. We have agreements with all foreign private and travel insurances.
In the city center of Antalya, 8 km from the airport; 9-floors, 14200 square meters of closed area, 48 intensive care beds, 71 patient rooms from these 60 single rooms, in total 119 beds, equipped with the latest technology from Germany is a hospital at European Union standards.
Private OFM Antalya Hospital
Comprehensive Treatment Services
All of our treatments and services are provided in a comfortable, spa-like clinic, designed according to high-quality standards.